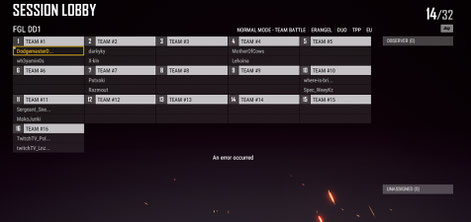 The first Duo tournament under the "Friday Gaming League" (FGL) flag was close to cancellation. "An error occurred" - that's all we had and nobody could really understand what went wrong. "Technical issues on our first Duo event is really tragic and you start questioning yourself: Too early? Not enough prep? Was it a good idea after all?" 
Even a Twitch streamer from Brazil was enrolled in the Friday Gaming tournament and was about to fight for fame and glory. But not this time...
At least until we found mutually out that we needed to spam and smash the "Start Game" button until the game would start. Thanks to our French Friday Gamers! And surely something for #FixPUBG
"After the first game, we took off! But we won't combine 3pp and 1pp again. "
But finally we got it and the tournament turned into a big success. The tournament hosted 3pp and 1pp modes. Since time was lost initially, the tourney was cut by one whole set of games. And so, 4 games were started, 1x Erangel und 1x Sanhok for each mode. The results and modes can be found in the slideshow below.
DodgeMD's impressions about the first Duo event: "Technical problems are always worrying for an organizer and you feel sorry for the players who are excited to start and even have their audiences cheering for them on their streams. But we need to trust PUBGCorp to handle the technical side and ensure success for such tournaments. But we will keep an eye on the development. This time we did it though! Being asked if mode, organization and event are already shaped, the TFG founder said: "After the first game, we took off! But we won't combine 3pp and 1pp again. 3pp is more casual und the majority of our FGL players look for the "competitive experience" - this is only granted in 1pp mode. Additionally, we look into ladder systems and have already something coming for October!"
Registration for new tournament open now - Duo Destruction Ladder October
The new event aims again at Duo Teams because of the mixture of action, fun and the "competitive edge". The last tournament targeted a fast determination of the winner, the next tries to implement a mid-term resolution in form of a "Duo Destruction Ladder" (FGL DDL), a league system which should take approx. 4 weeks start-to-finish. "We are expirementing to find the best mix for Friday Gaming and its enthusiastic and passionate gamers. And who says that it will always be PUBG? We want diversity and we want the players to play for something. This is the ultimate incentive to come to us and stay. We are looking into that as well."
Registration for the "FGL DDL October" are already possible. More information about it on the FGL Standings Page.