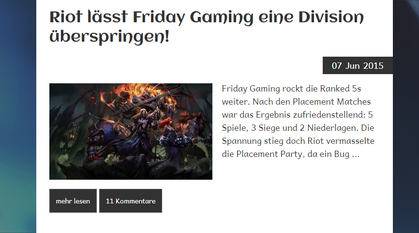 The beginnings
Here, over at Friday Gaming we always thrive for competition. Our LOL team in 2015 was quite successful and fueled excitement in the community.  Players were highly motivated, trained, worked hard to improve and won a lot, all held together through the enlightening and mutual team spirit. (see news article)
With a growing player count, we always wanted to create some structure like an own league or tournament mode. Always with the goal in mind to create more excitement, challenges and lasting competition to compete against friends and gamer friends of the community.
It is very important for us to create our competition structure and continue tweaking it to be as exciting and excellent for us players. To keep Friday Gaming attractive and grow its popularity and to keep adding even more chill "Dudes und Duderellas" to our community who will help us becoming an even more diverse and fun gaming community. This will be our next step to improve our Friday Gamer Hall and to also raise our standards.
What is a FGL tournament?
The Friday Gaming League (FGL) ist a tournament structure that allows all Friday Gamers to compete in a short-/mid- or long-term event and also compete for TFG prices if we reach that stage. This depends on the popularity and our growth. Currently, we start with PUBG, a game with the biggest player base at TFG. Depending on the activity level, we will definintely  try out more games for tournaments. The organization is handled by DodgeMD only at the moment and every helping hand is very welcome. Please write him in Discord to offer help in administration or any kind of support.
What is the structure of a tournament?
A tournament is split into multiple matches (or sets). Each set contains of multiple games. And then there is a participants list, a timeframe and a rule set which is defined and shared upfront. Currently, all details about a tournament can be found on the details page over at Toornament . Over there, players also need to register for the specific tournament. All of the currently running and upcoming  tournaments can of course be accessed through our Homepage. Finally we are thinking about adding prices to the events. Obviously, this depends heavily on the success and participants of the upcoming tournaments.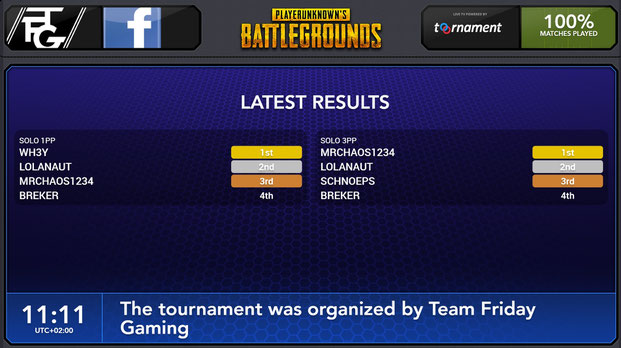 Who is eligible to participate?
All Friday Gamers and their (online-) friends can participate. We aim to grow organically which means we would want to minimize anonymous participants. But it is definitely OK to stop by to say "Hi" and become part of the community. Everyone is very welcome to come and stick around to play with us. German or English is the languages to go. Discord is the place to go for starters to be welcomed to the community.
How often will tournaments start?
We will collect our experiences and work around that. Currently we are playing around with single events and monthly-based events. If you need to pass on one day of a monthly event, you won't get any points but you do not get excluded and won't lose any points (yet). Long-term tournaments gives us the opportunity to keep excitement over a longer period of time and we would love to see how it plays out. A monthly reset also helps us to revive players who are down on the ladders and give them a fresh chance without having to wait to long. Then we can start a fresh season all together and have another shot on the title. 
Where can I register for planned events and learn about running tournaments and my standings?
All tournaments are announced in our Discord announcement channel and in our News section. Standings of running events can be found in the FGL Standings.
OK, that's it so far. Register now for the tournaments and plan ahead of time for yourself to not lose out on precious points during the tournament to maximize your chances of winning! :-)
Share this article and give your friends a bump into the right direction: Bring them to Friday Gaming! 
And be part of the best gaming community you will find. With you, Friday Gaming is already a great gaming home and it will become even better in the future! So stay tuned in and thanks for joining us!
Yours truthfully,
DodgeMD